THESE ARE THE PROJECTS WE ARE WORKING ON
TO REALIZE OUR VISION
Two educational projects were selected as pilot-projects on the island of Lombok NTB;
The first was the agricultural project of the Rosella, for which we sought out a group of farmers in Ketara.
The expert for this project was Mohammad Djaeni, who lead the practical trainings in Sayang-Sayang, and also visited the farmers in Ketara to instruct them in the cultivation of the Rosella Kembang Sepatu, but foremost introduced them to the concept of Multi-cropping.
Project Proposal extending the Rosella Project to Sumbawa and initiating Bambu research and implementation as part of the Educational Project – Multi-crop Diversity
Preamble:
In our investigations regarding the Bambu Research – as part of the Green Technology of the Mission and Vision the Yayasan Kebon Sepatu has taken on as a primary leverage for their statement: "We didn't inherit the Earth from our forefathers, we borrowed her from our children" and has proven her commitment with their activities like "THINK GREEN – ACT CLEAN", together with students of the Magister Management and Agriculture at the University of Mataram, March 2020, as part of the "ZERO WASTE" slogan of the Government NTB.
***
It is commonly known that bambu has qualities that are considered to be stronger than iron – for building and construction purposes – and will be an excellent alternative for wood. CO2 absorption of Bambu for one ha of plantation amounts to 250-350 tons (!) in comparison with Fir-pine 200 tons. Bambu also retains her positive carbon qualities in comparison to all other building materials (hardwood, steel, concrete etc.)
After monitoring the developments and popularity in the use (household application) of bambu in general there is sufficient ground to proceed to a next level, and as we now have been successful in finding the right partner for the extension in the development, research and growth of the species of Bambu, which will thrive on Sumbawa, there is a clear way forward.
This organisation goes by the name of BambuNusaVerde*, and is founded by Belgian nationals, as our counterpart and financing partner of the Yayasan Kebon Sepatu is also foreign owned, Sasak Studio Sejati, I have requested the Dutch Embassy to investigate if there are funding possibilities from the Dutch Government, or the European Union that may find this project sufficiently interesting that they will give us a sponsorship or grant.
Proposal 1): Extend the Rosella project to
support and assist the farmers on Sumbawa in setting up their grit to incorporate our former Rosella Tea initiative, which was previously launched in Ketara (Lombok Tenga),
teach local farmers how to apply multi-crop farming methodologies,
stimulate local farming communities to implement organic methods (no chemical insecticides, no chemical fertilisers),
synchronise research and develop the grit on Sumbawa, and later extending to Dompu and Bima; to alleviate draught and landslide issues caused by mono-culture farming,
Proposal 2): In the line of these developments it will be advisable to come to some sort a working/cooperation agreement between either BambuNusaVerde* in the form of a MoU, which will enable us to empower those who most need it.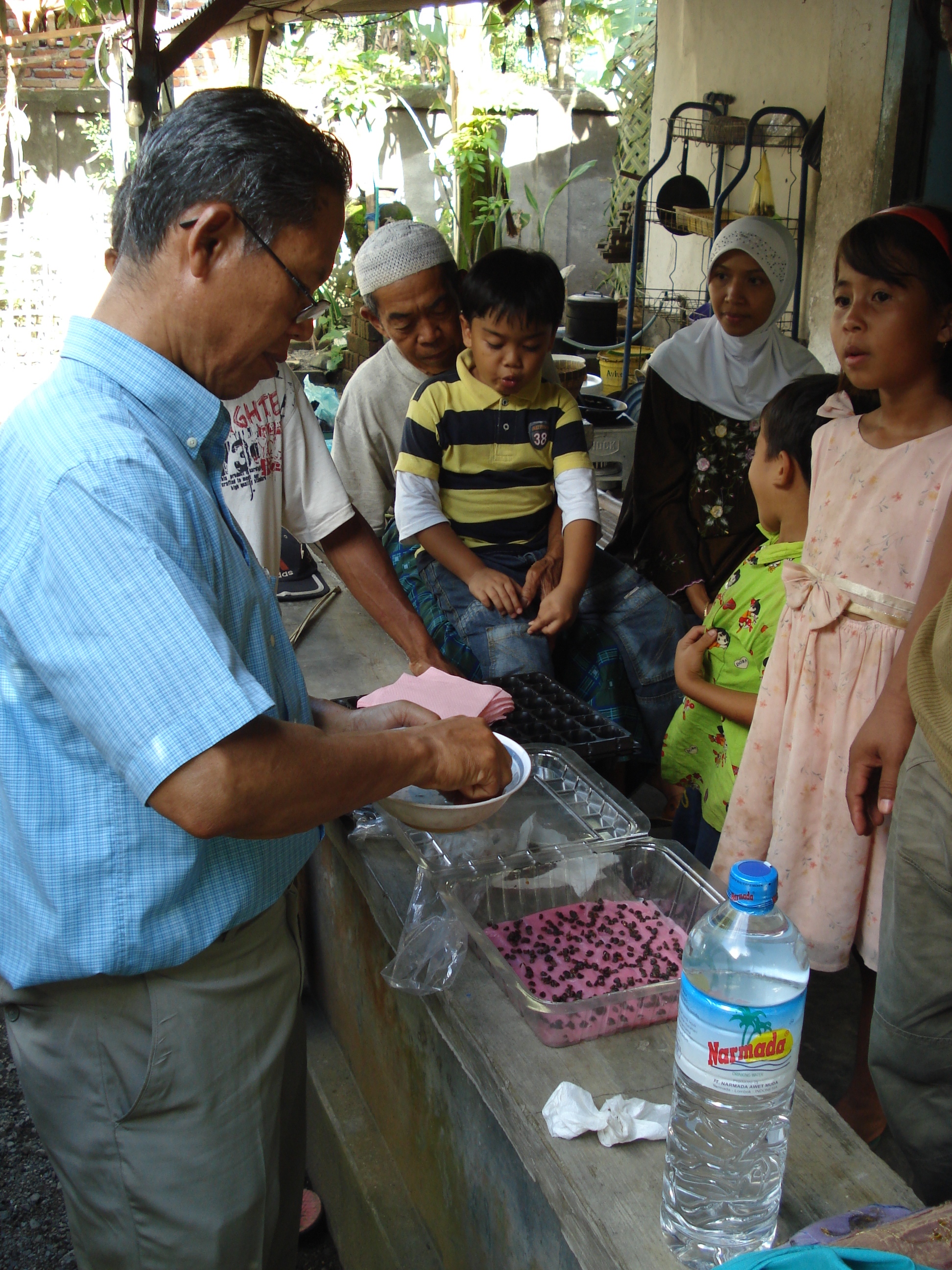 Boat- maintenance and building Workshop-Training Centre Cemara (Lembar)
Yayasan Kebon Sepatu acquired land to build a and give Professional workshops, as well as provide students between 15-18 years old, with all necessary skills to carry out maintenance services to fishing boats, build safety guaranteed fishing vessels.
Syllabus : handling/knowledge of materials, application of technique (electrical) design of making sails, as well as being to sailing and navigation skills.
Staff: local trained staff and volunteers would assist and support the activities, which would in turn, facilitate further developments for eco-tourism in the area.
Location Cemare :  It would be the hall of residence of the Stichting Kebon Sepatu – Yayasan Kebon Sepatu on Lombok NTB, and the official Project Office for Indonesia.
In 2012/2013 the Stichting Kebon Sepatu – Yayasan Kebon Sepatu organised an event to establish a greater involvement of the local population and to share their views on setting up an educational training centre in Cemare.
Only at the beginning of this year (2019), we were informed what the underlying reasons were that caused the incredible delay in transferring the land certificates into the name of our (Indonesian) Yayasan. The reality of old established feudal systems is shocking and so deeply rooted that its affected and is still infecting this modern society; the rich taking advantage of the poor is continuing – the advantage of education is withheld from lower (=poorer) segments of the population, which allows rich and powerful people to take full advantage and fill their pockets and getting away with it. More details and progress reports will be disclosed on our website.
The projects are under review to be supported by the University Technopark on Sumbawa and will be extended with the recent research on Bamboo and planting this in certain areas, as well as an added project on the Mangroves to be moved and launched on a suitable location on Sumbawa.
Support our educational projects to help us create a fairer, greener and sustainable world